"I didn't want to wake you up, but I really want to show you something."
- James Gandolfini as Carol to Max Records as Max
(That sentence speaks to where I was yesterday, when I began to post this blog...while we were all dozy on a post-turkey-feast day.  We were stepping out of our tryptophan hangover gently and quietly, enjoying a day off of work...we were just loving life.)
Where The Wild Things Are is in theaters now.  I went to see it because in the past, I'd liked some works by author/artist Maurice Sendak, director/skateboarder Spike Jonze, and the film's screenplay writer Dave Eggers, whose book, A Heartbreaking Work of Staggering Genius, I'd read.
The visuals, cinematography, and songs are my favorite elements of this movie.  
And a few lines that are like bites of poetry,
such as this one, uttered by Lauren Ambrose of the hugely missed show Six Feet Under... 
"I'll eat you up I love you so." 
Some of these creatures looked like cousins of the puppets in The Dark Crystal, a movie that came out when I was too small for school.
At the beginning of the film, Max is wearing an awesome tribal style knitted sweater (the rest of the film he's in a wolf-suit). 
He wears it in school, rough housing with the other guys, while he's daydreaming, and on his drive home.  I coveted this!  It looked perfectly old world.
I have a couple of lovely fair isle sweaters already, but I happened to see one in a shop recently, in this heathered-gray, plum-charcoal color that I love.
It's the exact color of the Atlantic Ocean.
I purchased it because the days were getting colder, it would be great for any activity in the snow, and it reminded me of that dazzling jumper in the film.
I want to give the sweater to one of you, for free! 
Since it's vintage, it's one of a kind. 
It was commercially made, but it looks almost like folk art, because the pattern is intricate.

This sweater is in excellent condition.  It's one of the best-looking fair-isle sweaters I've seen in a long time.  It can be hard to find ones with colors this tasteful, and patterns this flattering.
Vintage sweaters of this type go for say $40 - $80.  Brand new, a high quality fair isle sweater can be worth hundreds.  This one for men by Burberry is $650,  clickable link.
Mine isn't Burberry, but it's still special.  I loved the hues and design. 
Mine could fit a child with plenty of room for layering, a small woman, or even a man, if he's wire-y and bold enough I guess. The measurements are:
shoulder 14.5"
chest 34"
sleeve 23"
length 26"
 It is collegiate, and ski-slope worthy.

WHERE THE WILD THINGS ARE trailer in HD

Trailer Park| MySpace Video
The tag line for the movie-
Inside all of us is...HOPE
Inside all of us is...FEAR
Inside all of us is...ADVENTURE
Inside all of us is...A WILD THING.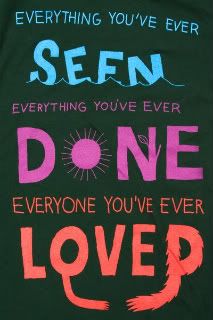 Hoooowwwwl
Leave a comment or email me if you'd like the sweater. 
Entries are welcome until 11 p.m. December 5th.  I'll announce the winner on Sunday morning 12-6-2009.  It's my first give-away and I have no idea if I'll get any bites at all.
I'll be sure to mail it to you in time if you want to give it as a Christmas gift.
Currently listening to: 
"Wake up" by The Arcade Fire  2004
Update:  There's no need to include your address in the body of your comment (I notice a few people are doing that).  I wouldn't want you dears to have to publish your info in order to get the prize.  Rest assured, Typepad sends me your email when you comment.   p.s.  If you'd like to send your entry via private message instead, that's fine too.   You'll find my addie on my "About" page, above a hundred of my favorite things.  Good luck- So far your chances of winning are great!
All images in this post (except shirt) belong to Warner Bros, found via
clickable link
.