The winner of my first give-away is Anabela. 
 

 
Three cheers and congratulations!
Thank you very much to all who entered.  I wanted each one of you to win.  I don't know if I can bear these give-aways,  you're all so sweet in your own special ways, and I wish that a contest of this nature didn't mean I had to disappoint those of you who aren't taking the sweater home. 
I have many great presents to gift you.  The odds are extremely strong that you'll be the person with a prize in the future.  Because I'll make sure the same person doesn't win twice in a row, and I received only about a dozen entries- the perfect sized pool for everyone to have a good chance.  One of the coolest aspects of this contest was that even though we only had a few handfuls of entries, there were over seven countries represented.  Mostly the U.S.A., Canada, England, and Australia, but also Luxembourg, France, India, and Brazil.  Please don't be too shy or too bummed to try again if you see something you like here.
The view this morning out my windows:

I have a bunch of nieces, but one in particular I'm very close with because I take care of her all the time and she's the baby of the family.
The one who helped me pick the winner:

I cut papers in the shape of hearts.  Each one of your names was typed.  I painted each a different color, then I nestled 'em in a ski hat. 
I had to take a photo of my paper hearts, as they looked glowingly pretty in this early December light. 
I dusted them with snowflakes for good measure.
Yes!  That means today we woke to our first snow. 
Here is Anabela, seeing hearts everywhere she looks:
I'm happy that I get to send a package to Anabela this time, because it can serve as a birthday and Christmas gift as well.  And, in my past experiences with her, she's a tasteful, warm, sincere, and generous person.   I hope she loves this parcel. 
I'm not sure if I should mention this, but I hope that she doesn't mind.  She and her fiance are the brains, hearts, and hands behind the blog
fieldguided
.  They are based in Toronto.  Their work includes tailored dresses, custom men's ties, cool ceramics, fresh and clean (and simply lovable) drawings, and more.  They sell their work on Etsy worldwide and
Bakers Dozen
(a shop of exclusive limited editions, based in Australia and founded by artist
Amy Borrell
, an artist whose paintings are in my home). 
I own a couple of vintage pieces from Anabela, perhaps you'd like to see.  I cannot remember when exactly I obtained them; seems like ages ago. 
First, here's my silk pussy bow blouse, as they called it.  'twas in perfect condition, one hundred percent pure silk, and from Paris. 

 
Here's my vintage beaded collar, again in perfect condition. The tag reads:  "Made in Japan, Hand Made, styled exclusively for Segal's Reg'd" and it dates to the 1950s.  I owe Anabela thanks - thank you for bringing lovely little items into my home.  They're classic yet unique.
 

I'm peppering this post with stills from
A Little Princess
,
released in 1995.
It came to mind when I saw my favorite toddler in curlers, as she was getting ready to see Santa Claus today. 
She reminded me of several scenes, when the boarding school chums are piled on the bed.  They're telling stories late into the night, while their mistress plays a concert harp downstairs.  She's unaware of their mischief.
All of the girls use rags for curlers, tied into their silky locks.  I love the way it looks! 
Such a beautiful film.  It was nominated for
Oscars
in Best Art Direction, Set Direction, and Cinematography. 
Have any of you read the novel by
Frances Hodgson Burnett
(1904) or seen the movies (1917 starring Mary Pickford, 1939 starring Shirley Temple, 1995 starring Liesel Matthews)? 
Here's a preview if you're in the mood  (2 mins 49 secs) :
www.imdb.com/video/screenplay/vi2052259865/

A running theme in the story is exemplified in these lines:
 
Miss Minchin (the head mistress):  "Don't tell me you still fancy yourself a princess?  Look around you!  Or better yet, look in the mirror."
Sara Crewe: 
"I

am

a princess.  All girls are.  Even if they live in tiny old attics.  Even if they dress in rags, even if they aren't pretty, or smart, or young.  They're still princesses.  All of us.  Didn't your father ever tell you that?  Didn't he?"

I was reminded of the film in a second way today, because this is how it felt to see the first snow of the season.  It glistened, covering the landscape outside my windows: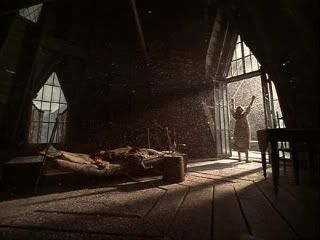 Now I'll bid goodnight to all of my readers out there, who surely are fit to be princesses, young and old.
Adieu, mes amis!
 

Currently listening to: 
"Step Right Up" by Tom Waits, 1976 
(wherein he growls the lyric "prizes, prizes, prizes")
1) Prizes girl drawing- by
Heather
2) Girl smiling with snow on her face- belongs to Warner Bros., found via
clickable link
4) Baby with curlers- by
Heather
5) Paper hearts- by
Heather
6) Anabela in glasses - used here with permission from Fieldguided
7) Ivory blouse- by
Fieldguided
8) Beaded collar- by
Fieldguided
9) Girls on head of huge Indian statue with swimming elephant below- belongs to Warner Bros., found via
clickable link
10) Girl in open attic window- belongs to Warner Bros., found via
clickable link